Andy Boothman writes...
Possibly the largest collection within the Study Centre is the estimated 4,000 or so drawings for Carriages & Wagons, mainly built at the Litchurch Lane Works by the Midland Railway and its immediate successor, the London Midland & Scottish Railway.
The task to catalogue these drawings was re-initiated around 2009, and most have now been listed. It is slow work, as the older drawings are often very fragile and having been rolled up for many years they do not unroll easily!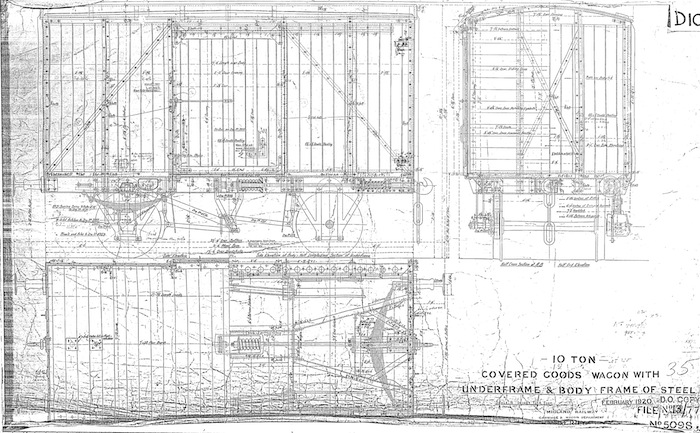 A 400dpi version of this drawing can be downloaded here, but be warned, it is a 9.9Mb file.
One of the many benefits being realised from the Midland Railway Society's investment in a wide format scanner last year is the ability to make elements of our collections much more widely available. Given that providing resources for model makers has always been an important part of our activities, we are delighted to make an area of this web site available especially for modellers.
We have scanned a series of what we consider to be some of the more popular drawings from our Carriage & Wagon collection available for download. Whilst this is primarily aimed at modellers, we are sure many other will find the drawings interesting. The only restriction on downloading them is no commercial reproduction and kindly attribute the source to the Midland Railway Study Centre.
Simply producing a catalogue is not particularly useful to anyone requiring drawings to aid the restoration of full-size rolling stock or to build a model. Two other sources of information are invaluable; these are the Carriage & Wagon Drawing Register and the Lot & Diagram List. The following notes explain what information is in each of the three sources, and how they relate to each other.
The Carriage & Wagon Drawing Catalogue
The drawings in the Study Centre collection have been catalogued with the following information – asset number, drawing number, description, date and whether it has been scanned (to be made available electronically). The description is taken directly from various places on the actual drawing; the drawing title (often quite extended), any diagram or lot numbers in the title area or in notes on the drawing, the scale, and all drawing numbers shown(MR, LMS, etc). The date is taken directly from the drawing, but it should be noted that this is sometimes the date of revision or re-drawing – so early drawing numbers can have later dates on them.
The asset numbers (allocated by the Study Centre) are in 2 groups. The 88-Cxxxx numbers are all copies, generally acquired from a variety of sources outside of the Carriage Works. The 88-Dxxxx series are mainly original drawings.
The Drawing Register was commenced in 1873, with drawing No.1 being 'Block Plan of New Works'. A consecutive number sequence was used until 1927 (well into LMS days), with the final drawing being No. 6701. After this, the LMS standard drawing numbers were adopted (format xx/yyy), and these continued into BR days.
As drawing No.1 shows, this register did not just cover carriages and wagons; it also included road vehicles both horse-drawn and motorised, hand barrows and carts, office furniture, works buildings, social buildings (such as a Sports Pavilion at Cricklewood), special machines & tools, and equipment for new ports such as Heysham.

As can be seen in the extract, the register used for the transcription (held at the NRM) was hand-written in pre-printed columns, running to over 400 pages. Several factors suggest that it was re-compiled from other sources (possibly a card index?), possibly in the post Midland railway era.
The entire register has now been transcribed into a spreadsheet and, in addition to the fields described below, each entry given a category so that the data can be filtered easily.
It shows original drawing number, LMS standard drawing number, description, date, name of draughtsman, and occasionally some remarks. The description is generally brief, and often not as descriptive as the title found on the actual drawing. Various errors have been found during the transcription or subsequent research – such as whole pages with incorrect dates (wrong month or year) or descriptions that do not match the actual drawing content. In these cases, the original data has been included together with corrective notes. In the draughtsman's names there appear entries with slightly different spellings or initials, but they are consistent over blocks of pages – possibly this is due to it being compiled from other sources as previously suggested.
As part of the electronic transcription, where a drawing has been confirmed to exist in the MRSC collection or the NRM that matches the register details, its asset number has been recorded and is shown in the search results.
Most carriages & wagons were built in 'Lots', each Lot being for as few as one vehicle of a particular type up to several thousand. The MR lot list started at Lot 1 and reached Lot 993 in 1922, after which the LMS again used lots starting from 1, so it is easy to catch out the unwary! Each MR lot was entered into a register with a date, a brief description and a drawing number. e.g. Lot 945, Qty 100, Drg No. 5098, Date 27 Jan 1920
Vehicles were also classified by a 'Diagram' number, these being collected together in the Diagram book. The 'Diagram' showed a pictorial outline of the vehicle with some key dimensions and occasionally some notes, but this information cannot be relied upon as often variants were built that were allocated to the same diagram but differed from the details given. As a consequence, the precise definition of which Lots (or part Lots) were built to which Diagram is not always possible, but the latest information has been combined into the Lot & Diagram List (another spreadsheet) and this will continue to be refined following any future research.
By merging and filtering all this data we will be able to:
Determine the completeness of our collection of carriage and wagon drawings.
Compare with MR drawing collections held elsewhere (e.g. the National Railway Museum or SERCO) to see what gaps they fill.
Support researchers to find not only the General Arrangement drawings but also relevant detail drawings for their chosen prototype.
Volunteers are in the process of slowly but surely working through the drawings to create high quality scans of the entire collection. This is so they will be easily available to researchers who do not need to access the original material, and to provide a backup in case of disaster. Please contact the Study Centre Co-ordinator at the addresses below if you may be able to help in some way.
Users of this search facility will probably be familiar with the published works on MR carriages and wagons. If not, the details are given below. Some are out of print but second-hand copies are regularly obtainable.
An Illustrated History of Midland Wagons – R J Essery. 2 volumes, ISBN 086093 040 8 and ISBN 0 86093 041 6
Midland Record No. 2 Supplement Midland Railway Wagons – R J Essery. ISBN 1 874103 45 3
Midland Railway Carriages – R E Lacy & George Dow – 2 volumes ISBN 0 906867 19 3 and ISBN 0 906867 36 3
With works of such detail, inevitably a few errors crept in, and to avoid confusion of any readers trying to cross-reference some are noted here.
Mwv2 – p46, Lot 774 Implement Wagon had drawing number 3485 not 1911.
My thanks to Bob Essery and Simon Wass for their initial work which I have built on to compile this resource.