On behalf of the Midland Railway Study Centre, on Friday 8th May 2014, Dave Harris will be introducing the 12:30 showing of Oh Mr Porter at the Derby Film Festival, being held at the Quad Arts Centre, Derby, 9th - 18th May.
The festival theme is technology, and the Study Centre is involved by displaying some of our posters and ephemera in the cinema lobby. The introduction on Friday will take the form of a brief illustrated talk explaining the history that Derby175 represents.
The Midland Railway Study Centre will be holding a Special Open Day to commemorate Derby175.
The event will take place on Thursday 29th May 2014 between 15:00 - 18:00.
We will be providing a brief illustrated talk explaining the historical context of Derby175 and what it meant for the town ... and beyond. There will be conducted tours of the store areas, giving a rare glimpse behind the scenes. The Silk Mill Museum's celebrated 7mm gauge model railway, which is a reconstruction of the Midland Railway in miniature, will also be in operation.
Admission is free and all ages are welcome.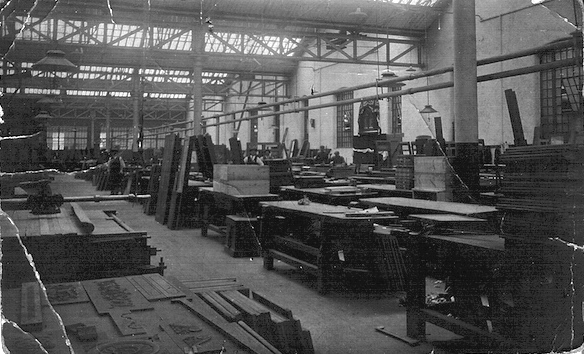 Undated postcard showing the Coach Finishing Shop (or 'D' Shop) at Derby's Carriage & Wagon Works at Litchurch Lane
Derby Museums: 1975/1281a - Midland Railway Study Centre
"The opening of that portion of this great undertaking between Nottingham and Derby took place on Thursday last ... The carriages were divided into four trains, six in each of the three first and two in the last, headed by separate engines; viz:- the Ariel, the Mersey, the Hawk and the Sunbeam. On the top of each carriage was hoisted a flag, which gave to the trains, when moving, a very splendid appearance"
So reported the Derby Mercury on the opening of the Midland Counties Railway. The first trains started at Nottingham, then... "at nineteen and a half minutes past one the train rattled up to the station at Derby, having completed the journey of sixteen miles in exactly forty-four minutes. The arrivals of the trains at Derby were welcomed by a large concourse of well dressed spectators". You can download the Derby Mercury's full report to share in the joy of the occasion!
Thus began Derby's association with railways, and a storied history which of course continues, 175 years on.
Following the opening of the Midland Counties Railway from Nottingham to Derby on 30th May 1839, it was quickly followed by the Birmingham & Derby Junction Railway on 5th August 1839 and finally the North Midland Railway from Derby to Masborough (near Rotherham) on 11th May 1840. These three companies amalgamated to form the Midland Railway in 1844.
Events to celebrate this anniversary are planned throughout the year. The Midland Railway Study Centre and its partners will be playing our part in these celebrations with archive material -- starting with this series of images of a Midland Railway carriage being built -- being made available on this site and displays within the Silk Mill at Derby.