2601 Princess of Wales drawing (click for larger version)
General Resources
In addition to the two main collections detailed below, the Midland Railway Study Centre contains a broad range of documents which those studying MR locomotives will find useful. For example, there are 156 items originating from Locomotive Department, including original documents signed by Johnson, Fowler and other prominent figures.
The Shelford Archive
This archive originally formed part of a complete listing of all LMS Group locomotives (including the post 1923 standard types) compiled by John Randolph Shelford. Not only did he research his subject thoroughly to record build, modification / rebuild and withdrawal dates, dimensions and renumbering information for each locomotive, but he set out to assemble as many photographs as possible to form a pictorial record of visual changes to locomotives throughout their lives. His entire archive was dispersed after his death and it is believed the Midland Railway portion (which includes constituent companies and forms the Trust Shelford Archive) is the only one to have survived intact and this includes over 3000 locomotive photographs.
More comprehensive details about this collection and the gentleman behind it can be found elsewhere on this website.
The Stephen Summerson Collection
Stephen Summerson, who tragically died in 2007, is a past President of the Midland Railway Society and a noted authority on Midland Railway locomotives. His books, published by Irwell Press, are the definitive work on the subject:
Midland Railway locomotives Volume One - a comprehensive primary account, general survey 1844-1922, growth and development, boilers, tenders, fittings and details.
Midland Railway Locomotives Volume Two - the Kirtley Classes.
Midland Railway Locomotives Volume Three - the Johnson Classes.
Midland Railway Locomotives Volume Four - the Johnson Classes Part II (Goods and Later Passenger Tender Engines); Deeley, Fowler and LTSR Classes.
His lifetime collection of photographs, notes, and ephemera have passed to the Midland Railway Society and are available to researchers in the Midland Railway Study Centre.
Stephen's source notes consist of 60 binders, 17 notebooks and 15,000 photographs and an outline of their contents can be gauged by searching our on-line catalogue for "Summerson".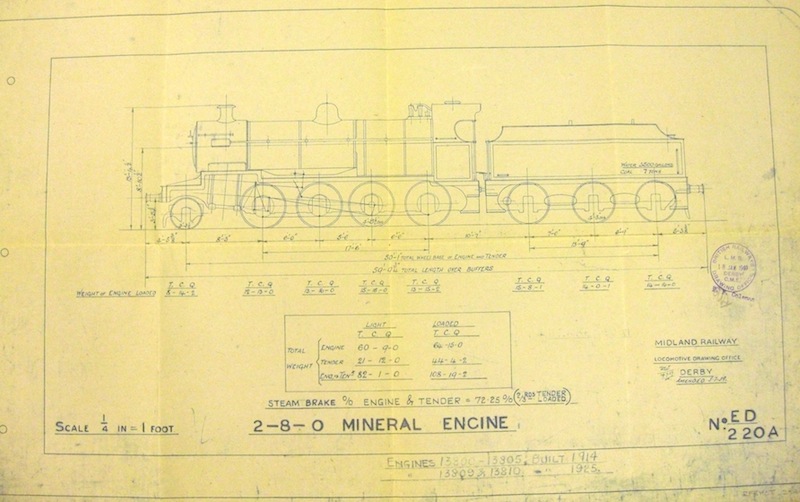 2-8-0 Mineral loco weight diagram