Compiled by Glynn Waite
The information in this dataset covers 149 clerical employees whose names appeared in a book used to record annual and special leave taken during 1918.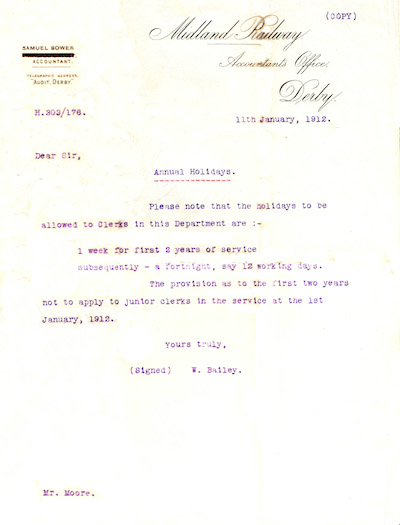 Correspondence relating to leave in the Accountants Office (click for larger version)
The following are general comments relating to the contents:
Initials rather than full forenames were used throughout the book. Female employees – which comprised almost 30% of the entries – were identified by the addition of "Miss". There were no married woman.
It would appear that the names of those employed in the office towards the end of 1917 were entered in the book at that time – one name to a page. A dozen names were added subsequently in a different handwriting.
An attempt has been made to identify forenames through reference to the 1911 census and similar sources. Some people will have been quite young when the census was taken but have been provisionally identified in many cases due to unusual names and family railway connections. It would appear that due to the war many of the females were taken on to replace those in the Forces, with some as young as 14. IT SHOULD BE STRESSED, HOWEVER, THAT THIS IS ONLY A GUIDE AND THAT, WHEREVER POSSIBLE, THE INFORMATION NEEDS TO DOUBLE-CHECKED USING FAMILY SOURCES.
No leave dates were entered under the names of 55 of the employees (37%). It is assumed that some will have been transferred to other offices, some will have been enlisted in the Forces, and others may have left the railway.
What are believed to more substantial records have been found for three of the employees. In these cases "DOB" = date of birth, and "DES" = date entered service.
If you believe a particular person is one of your relations, the Study Centre Co-ordinator, as detailed below, would be pleased to hear from you.