Staff Records from "Four Shed" at Derby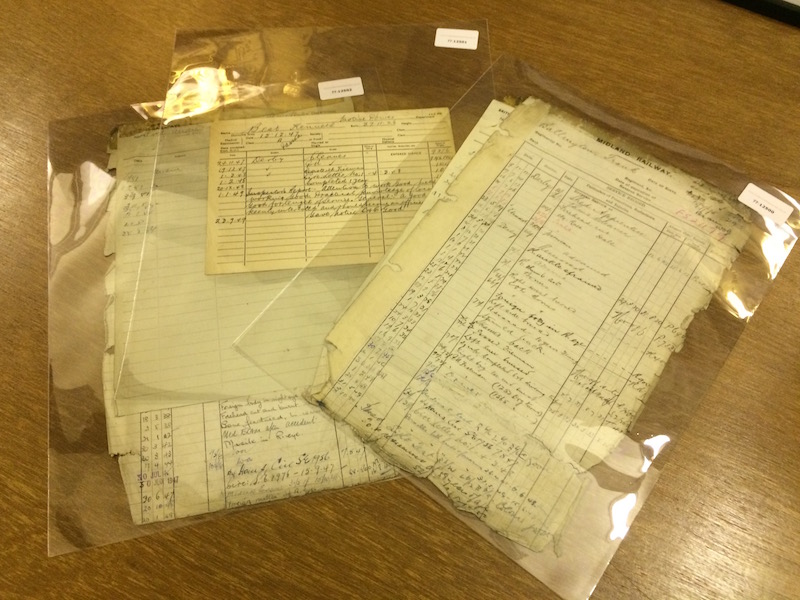 Ben Taylor was a driver who spent his career based at Derby's Motive Power Depot which was always known as Four Shed. At some point in his career he was in the right place at the right time to preserve a batch of records relating to members of staff at the shed who had long since gone or retired. We can only presume that these records were about to be put on the fire, and that Ben recognised the historic merit in saving a few.
He was obviously limited in what he could take and in all there are 136 individual records, limited to surnames beginning B, H, J, K & L. Some were literally only employed for a week or so, many served the railway for over 40 years. Most were men, but there are a few female members of staff (including wartime engine cleaners).All are fascinating. As well as detailing a member of staff's career progression, rates of pay and any injuries sustained, the reverse of most record sheets lists their "Punishments & Gratuities".
Sadly, Ben died in 2015. In the course of dealing with his father's affairs, his son Eddie (also a railwayman, as was Ben's father!) came across these records. Eddie has kindly donated them to the Midland Railway Society in order to make them available to all through the Midland Railway Study Centre.
Meanwhile, we are delighted to make some of the "tales" which caught our eye available here....
Our Privacy Policy. No cookies are set by this page.
Page last updated: Wednesday, 19 August 2015