This site will help you find details about the Study Centre's collections and how to access them. With an expanding range of on-line resources, it also provides a pathway for finding information relating to the Midland Railway, its activities and its people.
Are you researching a Midland Railway related subject?
Are you looking for an outlet for your work?
The Midland Railway Society's Journal is always on the lookout for new material and would be delighted to publish your work. You don't have to be a Midland Railway Society member (though we'd like it if you became one!)
Of course there is always that feeling that "it's not quite finished" or otherwise not ready for public show. That's a natural worry, and even if it is true, think of the benefits of publishing an excerpt of your work or showcasing a particular aspect of your research. The benefit of exposure to a wide audience of knowledgeable Midland Railway Society members can be very significant in terms of new information or material you receive by way of feedback. That said, it is important not to feel intimidated — MRS members are without fail a friendly bunch!
If you have anything which you would like us to consider for publication in the Journal, please contact the Study Centre Coordinator at the details at the bottom of the page.
WE ARE OPEN!
(...for a little bit longer)
While the building work continues at the Silk Mill the Midland Railway Study Centre is currently operating from a Temporary Site in Derby.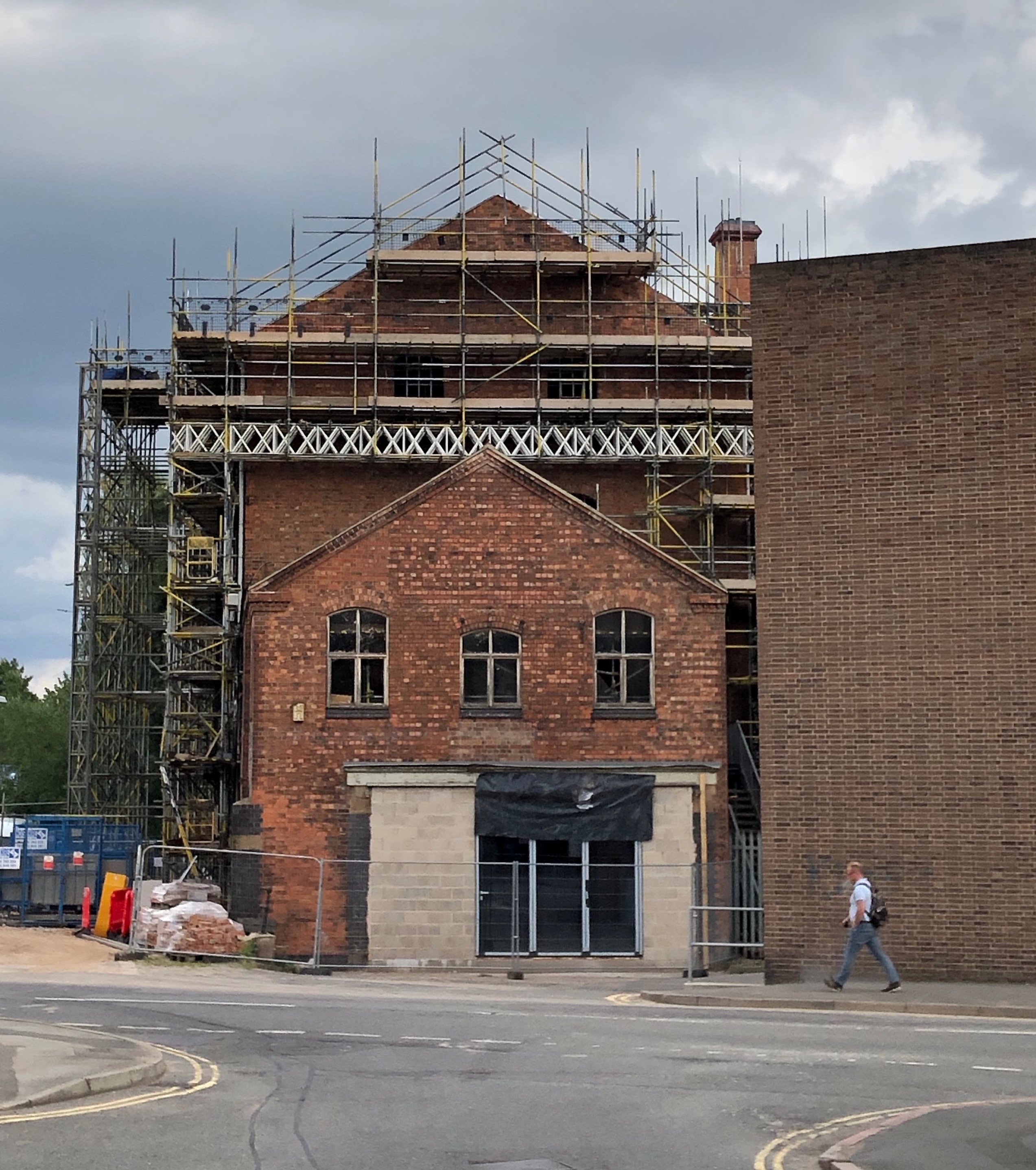 We anticipate beginning the process of moving back into the Silk Mill very soon. It is unlikely we will be able to accommodate any visitors to the Temporary Site from mid-September. We will then be closed (or at least severely limited in how we can operate) as the collection is moved back. There is currently no news on when we will be able to accept visitors into the new site. The point is that if you have research which you need the resources of the Midland Railway Study Centre, you only have a few weeks!
Meanwhile, we welcome visitors to come and access our document collection for research. Appointments are usually available on Tuesdays or Wednesdays. There are some limitations on what we are able to produce as space constraints mean that significant elements of our collection are stored off site. This applies to large items such as rolled plans in particular. Therefore it is essential that potential visitors check our on-line catalogue and pre-order documents where indicated. For those unable to visit us in person, we are always happy to assist with email enquiries. See more about this in our How We Can Help page.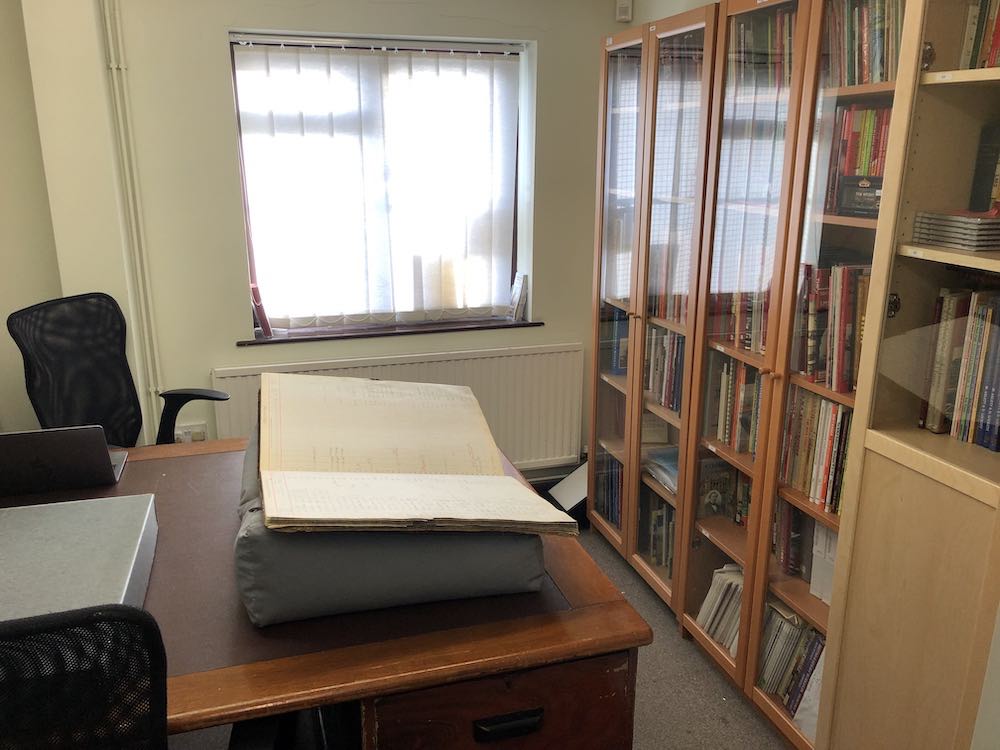 We also remain deeply involved in planning for the opening of the Museum of Making at Derby Silk Mill in September 2020, and our project update page will be regularly updated. We will begin the slow and meticulous process of moving back to the Silk Mill in late 2019.

New Download Available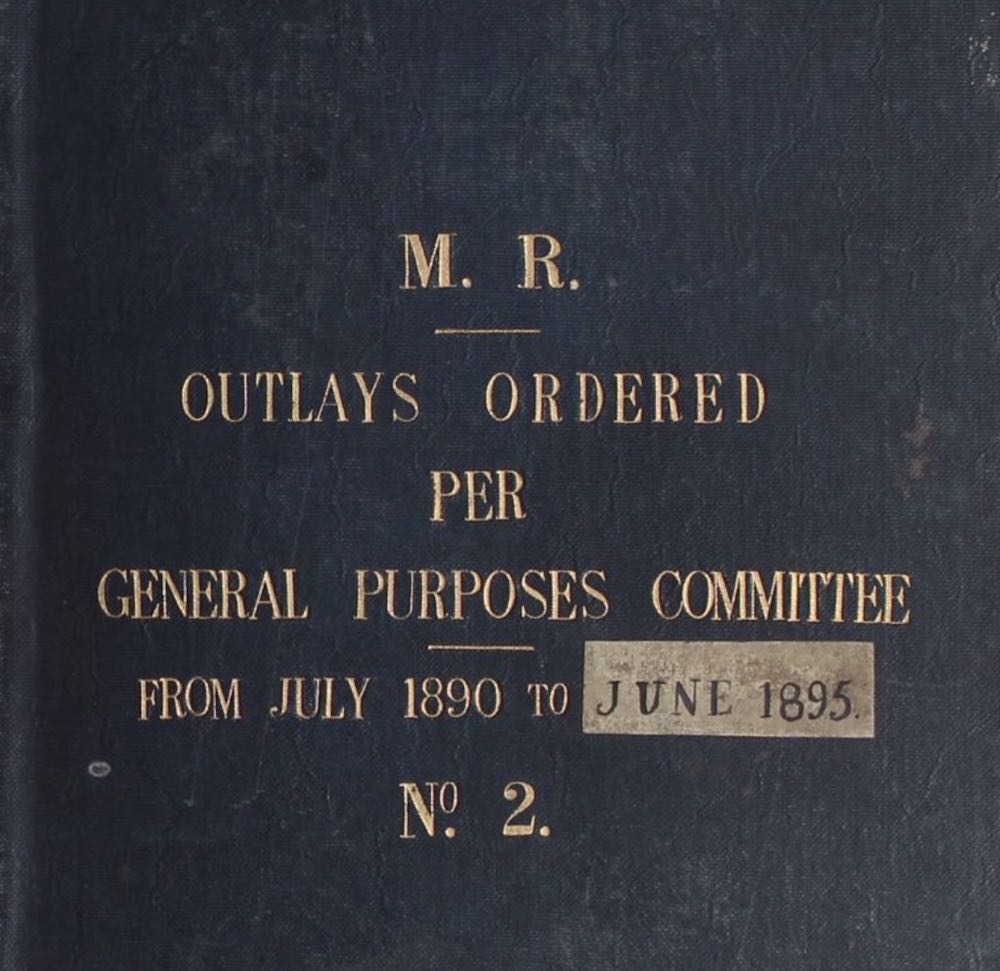 While we are away from the Silk Mill work continues to digitise as much of our collection as possible to make it available for research without having to visit us. The results are added to the relevant entries of the on-line catalogue with a download link. Our latest addition, thanks to the great work of one of our volunteers, deserves a more prominent mention...
This is a copy of all 128 pages of the MR General Purposes Committee outlays book from June 1890 to June 1895. (Item No. RFB10407 - 46.8Mb PDF). The ledger contains a wealth of detail in respect of civil engineering works, orders for new locomotives and rolling stock, land purchases, general improvements, and so on.... all over the network. An example entry appears below. The first 25 pages contain an alphabetical index of places and subjects to help you find what or where you are interested in. An invaluable resource for serious researchers or casual browsers.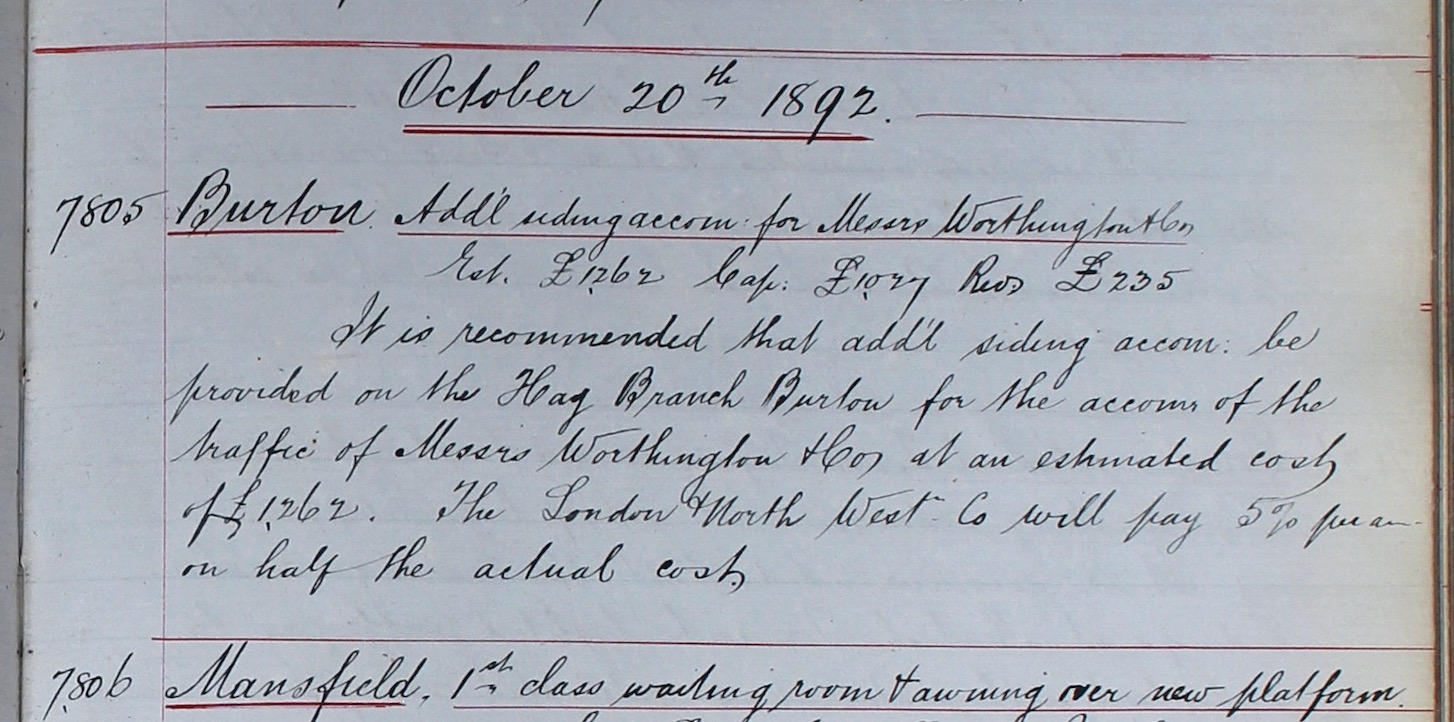 Extracted from a series of random notes by the late George Dow (Item No. RFB00998):
During a lengthy discussion among a cosmopolitan gathering in Paris shortly after World War I the question was posed what is most characteristic of the English people? Various suggestions were proffered.... 'Punch', a London policeman, a public schoolboy and finally, a Midland third-class dining car, which was accepted by all!
Our Catalogue
The on-line catalogue currently contains 57,032 entries, with more & more gaining thumbnail illustrations. Meanwhile the number of links to high resolution downloads has passed the 700 mark — and continues to grow.
There are also a wide range of downloadable resources
which you can access from this web site at any time
During our sojourn at the Temporary Site to allow the builders to do their work at the Silk Mill, access to our physical collection is unavoidably reduced. We have therefore detailed the many and varied downloadable resources which allow you to research Midland Railway history without the need to actually visit us. These can all be accessed on our...
There you will find pointers to the various corners of this site which will help you find your subject of interest.
Some things never change. Lest it be thought the Midland Railway was free from criticism, this extract is from "Original manuscript notes by R E Charlewood, being a contemporary review of the Midland Railway timetable of July 1905 with suggestions for possible improvements" (Item No. RFB01026):
Saturday August 12th.
"Main line very unpunctual as number of up trains 40, 50 or 60 late at Bedford. West trains equally bad at Birmingham. Hopeless confusion prevailed. Many were delayed and there were a lot of returning Volunteer excursion trains from Salisbury Plain and M'head. Regular traffic and excursions were heavy but much of the delay was due to Bad Working."
To see which parts of the country were served by the Midland Railway, please click this thumbnail to view a system map from 1914.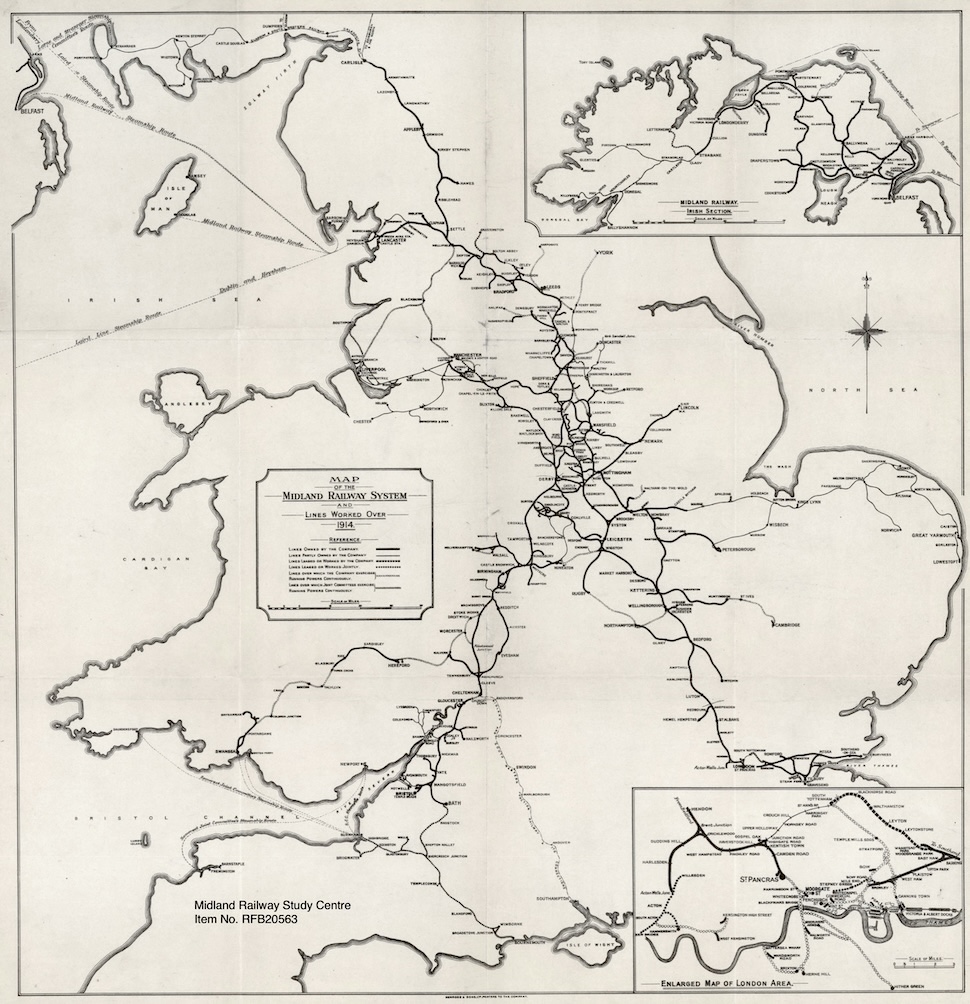 Silk Mill News
We were privileged to be able to take a behind-the-scenes tour of the Silk Mill refurbishment work in mid-January. As you will see here, the principal contractors for the building work, Speller Metcalfe have got to the point where the building has been completely stripped back to its raw structure, ready for the refit to begin in earnest. The project is on track for the Museum of Making at Derby Silk Mill to open its brand new Civic Hall and wonderful new space in Summer 2020.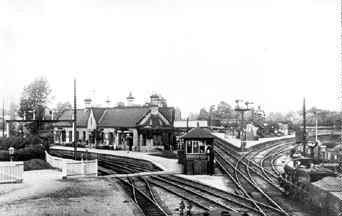 We are absolutely delighted to host the fruits of painstaking research conducted by Brian Harringman, which details the men and women who were employed by the Midland Railway at Ashchurch in Gloucestershire. Using a wide variety of both genealogical sources and railway documents, Brian has built up a comprehensive record, not only of the individuals concerns, but also of scope and nature of the work they were engaged in. Ashchurch was a significant location for the Midland Railway, not only as a junction, but as the site of one of the Company's most important Provender Stores. Even if you don't have a direct interest in the Ashchurch area, Brian's research provides an invaluable insight into working methods typical of rural railway stations in the late 19th and early-to-mid 20th centuries. Like all research, this project can never be declared "finished", but it has clearly long reached the stage that it is deserving of sharing.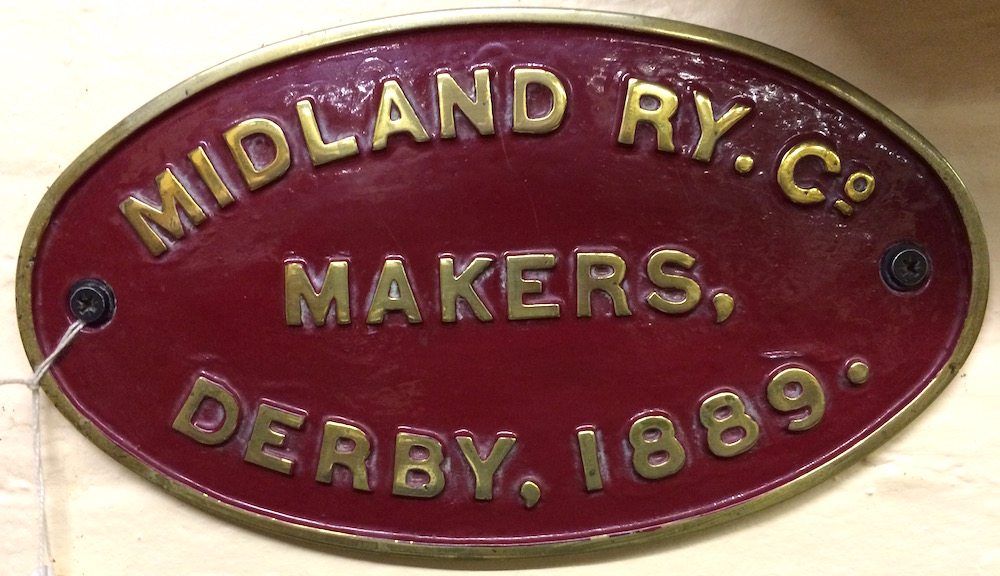 Our News page has details of activities and stories from the recent past, including updates on the Silk Mill's transformation into the Derby Silk Mill Museum of Making.