The Midland Railway Study Centre
is a collaboration between these three organisations:
Housed within Derby's Silk Mill, itself a World Heritage Site, the Midland Railway Study Centre is the largest publicly accessible collection of primary research material and ephemera relating to the Midland Railway, its constituent companies, and its legacy on today's society.
This site will help you find details about the Study Centre's collections and how to access them. With an expanding range of on-line resources, it also provides a pathway for finding information relating to the Midland Railway.
Enjoy looking around this site and if you think we can help, please get in touch. We hope to see you at the Study Centre soon.
The Midland Railway Study Centre is very proud to be a Partner in Excellence with the National Railway Museum.
Derby's Silk Mill, home to the Midland Railway Study Centre.
We are very pleased to announce a substantial update to our database of Midland Railway Staff. This dataset now contains just short of 9,000 names of men* who worked for the Midland Railway. This incredible resource is largely thanks to the incredible work of Midland Railway Society member Mike Shaw, who has transcribed the three District Staff Books for Nottingham, Derby and Toton locomotive sheds - amounting to over 7,000 names. Combined with the work of fellow MRS member Glynn Waite, this growing dataset represents a rich source of information for genealogists and railway historians alike.
* - The Company's workforce was almost exclusively male, but there are a few women employees listed too.
The operating dates for 2014 can be viewed here. If none of these dates fit your schedule please let us know as we may be able to arrange some dates around your diary instead of ours!
We now ask for a £5 per visit levy for the use of a camera by visitors who are not members of the Midland Railway Society. We have chosen to make this charge in order to generate an income which we will reinvest in reprographic equipment. Our long term aim is to finance the purchase of equipment to make our larger drawings available in a digital format. We hope you understand our reasoning and will support our aims in this regard.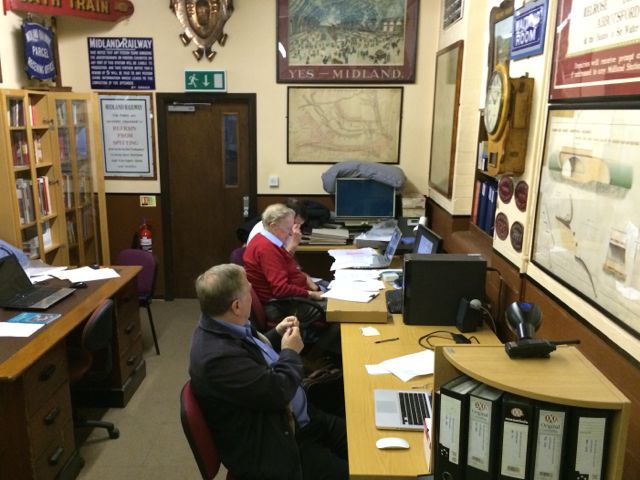 The Study Centre reading room
Large object store